HOW COUPLES THERAPY CAN HELP YOU
Does this sound like you?
My partner and I keep having the same argument again and again.
We can't talk without ending up in a fight.
I feel like I'm talking to a brick wall.
Sometimes I feel I don't know who my partner is anymore. This is not the person I thought I knew.
There's help for you. The key is finding a way to communicate with your partner openly and honestly again.
Can't communicate?
Constructive conflict is not a marital problem but just a normal part of healthy relationships.
Some conflict is normal and expected. People argue all the time over sex, children, religion, finances, politics, and even who pulled garbage duty last.
The trouble comes when heightened emotions, entrenched patterns, and poor communication block resolution.
When you say, "we can't communicate," you may really be saying that you feel misunderstood, unloved, or not listened to.
Then watch what you say!
I can teach you some simple strategies.
Don't take the good things for granted. Say "Thank you." "I appreciate that." "The yard looks great." "You handled that well."
Avoid "loaded words," such as "divorce," that carry a burden of threat.
Even when you struggle, remind your partner that you care.
Look for negative habits that you may not even know you have.
Do you unintentionally raise your voice? Sigh in resignation? Break those habits and develop new ones.
As time passes, desires change. Many couples must relearn to offer affection, negotiate, and compromise. Otherwise, resentment and guilt will build over time.
To reconnect with your partner. . .
Remember that people are born different.
Those differences come to the fore after the courtship and honeymoon end.
By exploring together who you and your partner really are, I can help you identify, discuss, and resolve conflicts.
I've helped hundreds of couples to learn to communicate and negotiate, to listen and understand, and to accept, trust, and forgive.
Talk to–not at–your partner, then listen to what your partner says back.
The communication of a message requires a source, a sender, a channel, a receiver, a destination, and feedback. In other words, you can learn to:
Gather your thoughts and words into the message you mean to send.
Learn the signals that show your partner has received that message.
Listen with an open mind to what your partner says in return.
Unfortunately, over time "noise" can enter the system in the form of inflammatory words and accusations such as "why?" and "you!"
I can help you drown out that noise.
Constructive conflict actually strengthens relationships
But conflict that leads to extreme anger or violence can destroy a relationship.
By teaching you how not to react emotionally, I can help you turn potentially harmful situations into constructive conflict.
If you empathize with your partner and uncover the feelings at the root of an argument, you can learn to grow through challenges together.
BUT there's always a but. . .
Our problems run deep. I don't think therapy can help.
If you and your partner can never agree, you may feel there is no hope. My experience says otherwise. I have helped couples work through conflicts ranging from the trivial (TV wars) to the not-so-trivial (financial recklessness). With the right help, you can learn to accept the natural differences between yourself and your partner and to find creative solutions and compromises.
I don't want to involve a stranger in my marriage.
Marriages and relationships feel like private, sacred things. But if conflict is keeping you from enjoying time with your partner, you may need help. I have the experience and special training that allows people to be at ease and to heal their relationships. Also, as a neutral third party, I may be able to help you realize things you've never considered before.
My  friends tried couples counseling. It didn't work for them.
Just as every person is different, every therapist has unique qualities. I use a method called object relations family therapy. Using this method, I can help you to voice your subjective experience of the relationship and to realize how you hurt one another without meaning to. I also assign exercises on an individual basis as needed. Don't let the experience of others keep you from getting the help you need.
Success story: The magic is gone for young marrieds
The husband began online flirtations a few months after the couple had their second child. Even though he didn't have an affair, the wife hit the ceiling when she came across the evidence on his computer. After things calmed down, we took stock together.
Both were struggling under the pressures of parenting young children.
The wife's job required her to wear overalls, and she'd slipped into the habit of wearing them even on her days off.
The burdens of everyday life had made them forget what they saw in each other in the first place.
I suggested a romantic evening for two. They hired a babysitter, dressed up, and headed for a night club. Immediately things improved. In subsequent sessions, they continued to make gains. They planned for regular romantic evenings, and they learned how to fulfill each other's needs, sexual and otherwise. Treatment ended in a few months. They are now expecting a third child.
This case vignette has been disguised to protect confidentiality.
Success story: Partners in business, too
This couple had a sea of troubles—newly diagnosed diabetes, isolation, reckless spending, indebetedness, panic attacks, and more—that required interventions ranging from meditation to debt consolidation to outside social outlets, such as taking up golf and joining a carnival marching band. One complication  was that the wife had a role in a business run by her husband.
The wife befriended one of her husband's employees and started discussing their conflicts with her.
The employee became difficult to supervise, and she started skipping work and showing up late.
The husband decided to fire her, and the wife felt guilty.
In therapy, we began to discuss how to bring order to the business. Together we wrote two brief policy manuals for themselves and for the employees. These manuals clarified roles and responsibilities so that everyone knew clearly what was expected of them. Much of the therapy then became about how to adhere to the policy manuals.
This case vignette has been disguised to protect confidentiality.
Why Robert Menuet?
33 years of therapy experience
Management training and experience necessary for mediating in family businesses
Proven record helping hundreds of couples of all faiths and persuasions to reconnect
Twelve years counseling experience at Catholic Charities of New Orleans
Special training in couples therapy from the Washington School of Psychiatry
Experience in court-referred cases after training as a family mediator at Loyola Law School
Secular approach not based on notions of traditional morality
Get the help you need now
Call now for a free 15-minute consultation. I can talk with you alone or with you and your partner over speakerphone. Leave a message at any time, and I'll get back to you. When you're ready to begin,
Bring your partner to therapy if you can. If you want individual sessions, or if your partner won't come, schedule individual sessions.
---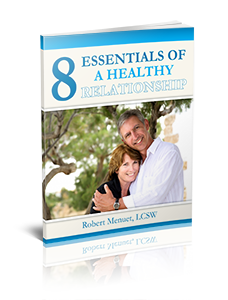 Read The 8 Essentials Of A Healthy Relationship
I'd like to invite you to read this free report in order to learn more about your current relationship. If you have any questions please don't hesitate to contact me by phone.
Download The 8 Essentials Of A Healthy Relationship
To download my free report, simply enter your name and email in the form below and click the "Download Now" button.