How to Have a Healthy Marriage: Don't Forget the Little Things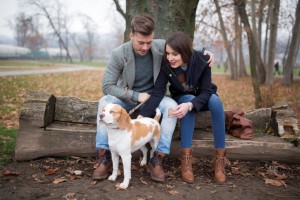 Ava and Daniel hold hands on the way from the driveway to the front door.
They say things like, "Thank you, Babe" for pouring the wine.
They smile at each other as they pass in the hall.
Ava and Dave are good at the little things. And consequently, they're great at marriage.
What about you and your spouse? Do you build your healthy marriage moment by moment like Ava and Dave? Or have you come to rely pretty heavily on birthdays, anniversaries, or Valentine's Day to keep the home fire burning and your affection alive?
In marriage, the little things are paramount.
You and your partner have taken on a monumental task in agreeing to "'til death do us part."
Life is always threatening to separate you. Guard your connection.
Make the most of every morning before you roll away from each other to start the day.
Look up from your plate, away from the screen, or across the room to catch each other's eye.
It makes all the difference in the world to be seen and to belong to each other again and again.
Neglect has no place in a healthy marriage. Marriage has enough challenges of its own without resigning yourselves to boredom, disconnection, and a slow descent into "roommate syndrome."
Look for a thousand little ways to engage and appreciate each other.
Imagine your best life with your chosen partner and decide to make it happen one moment at time. Develop a voracious appetite for more growth, more connection, and more joy between you.
Relationship expert Robert Gottman once noted, "What you do everyday matters more than what you do every once in awhile." It's difficult for seeds of doubt and resentment to blossom when you're tending your love with devoted presence and your willing attention.
Try these "little things" you can do to preserve a healthy marriage or nurse your neglected connection back to life:
Displays of Affection. Touch each other often. Linger a beat longer near each other. Long kisses and hand holding go beyond the compulsory pecks and quick hugs we indulge in on our way in or out the door. Take time to remind your partner of your scent, taste, and skin throughout the day. You may find that you'll both want to indulge a bit more at night — a plus for any marriage.
Courtesy. If you're not careful, marriage can dissolve into a series of unacknowledged tasks or unappreciated interactions that breed irritation and frustration. Life partners deserve a hundred times more the little thanks, approving nods, and appreciative hugs we give co-workers, friends, and the servers at our favorite coffee shops. Gratitude for that simple interaction will mean infinitely more at home.
Praise and Celebration. Who can resist a little positive reinforcement? Speak up! Praise and compliment your partner. This is a simple thing, but easy to forget. Yet specific and authentic praise from a partner has an enormous effect on self-esteem and on the relationship. If you can find the good in your spouse on a regular basis and celebrate it, you'll find it hard to take him for granted. With consistent praise and compliments, you will see your partner beam in the good light you intentionally cast upon her.
High Frequency Caring Behaviors. Doing simple favors like picking up the dry cleaning or bringing home a favorite food are also ways of showing care. Three or four small favors weekly provide a background of care that sustains positive feelings.
Prioritize and Cherish Time Together. Healthy marriages don't place partners anywhere near the back burner. Put each other on the calendar first. Workout as a team. Plan adventures together. Enjoy date nights and intimate interludes. Indulge spontaneity and surprises. Have fun.
Get the most out of every interaction, seek each other out.
You belong to each other. You're in this together.
And that's no little thing.