COUPLES WHO RUN FAMILY BUSINESSES 
Are you juggling the demands of your business and your marriage?
Does it seem like every time you try to resolve important business issues, you wind up having an argument instead of reaching an agreement?
Do you feel your partner treats you rudely or disrespectfully whenever there is a difference over business issues?
Has your partner made important decisions without consulting you, or agreed to follow a course of action, only to do the opposite?
Are business disagreements spilling over into your home life, including childcare arrangements or romance?
Or are you living through the worst scenario of all? Are employees—in a family business, often siblings and parents—taking sides in your disputes and driving a wedge between you and your partner?
If you have arguments over the same business and personal issues over and over, you may find yourself losing hope that you can ever resolve your problems together.
Help is on the way…
Robert Menuet provides relationship therapy and consultation expressly geared toward couples who run a business together. You and your partner can learn new ways of interacting, and both your business relationship and your marriage can improve.
For some couples, simply defining business roles and responsibilities can profoundly improve how they work together. For instance, abiding by a policy manual for production, personnel, and financial matters is a powerful way to begin to change the working relationship.
The #1 Management Tool All Business Couples Must Learn
Leaving work at the office and letting home stay at home takes thought and practice.
It takes concerted effort to leave domestic conflicts at home. But if you look at it rationally, the fact that your husband did not take out the garbage has no bearing on why you feel that his online marketing plan has been underperforming.
And when business and domestic disagreements intersect, the business suffers. Giving a spouse the silent treatment is the quickest way to miss deadlines and lose customers. Fighting or behaving badly toward one another in front of employees is even worse. Morale goes downhill, and some employees are drawn into taking sides.
The situation is even more complex if there are children in the workplace.  When childcare is delegated to employees, the opportunities for confusion are boundless. The employees begin to feel like family. And when forced to discipline a child, the employees are placed in an awkward situation and may themselves become discipline problems.
Terminating an employee can create tension in the entire shop and beyond. I recall a case in which a husband fired an employee and the wife then re-hired him, only to fire him again a week later.  And when employees are relatives, firing the cousin or sibling or aunt can lead to long-standing tension within the extended family.
BUT there's always a but…
Our problems began when we opened the business. Maybe we just shouldn't work together.
Opening a new business puts stress on a marriage.  Suddenly spouses must spend much more time together, opening new avenues for conflict. I can assist you in dividing labor, defining roles, and establishing and maintaining boundaries. With proper management structure and boundaries in place, couples can and do learn to work together effectively.
We already hired a business consultant who wrote a policy manual with job descriptions. We still are fighting.
A manual won't help unless you participate in drafting it and both give your input.  I can help you write your own policy manual. But even a manual you write yourself won't work if you don't follow your own rules. Failure to commit to your own business agreements calls for a closer look at the marital relationship, because it is polluting the business relationship and vice versa. For example, I recall a case where a wife didn't like the accounting aspects of the job and gave her husband control over her business finances. He was lax in his accounting, and one day she received an audit letter from the IRS. She soon learned that she was solely responsible for thousands of dollars in back taxes, interest, and penalties.
Our problems run deep. I don't think therapy can help.
If you and your partner can never agree about business or home life, you may feel there is no hope. My experience says otherwise. I have helped entrepreneurial couples work through conflicts ranging from the trivial (choice of janitorial services) to the not-so-trivial (financial recklessness). With the right help, you can learn to accept the natural differences between yourself and your partner and to find creative solutions and compromises. 
How to Succeed in Business and Stay in Love
This couple consulted me when their marital problems began to affect their movie catering business. The wife had a background in food service and was the manager of the business. The husband worked full time for a computer company, but his father had been the original backer of the business. As she became less and less available to him, he felt she was treating him in a dismissive and high-handed manner, and was neglecting their home life.
She relied on him on weekends and special events to oversee employees setting up tables and buffet lines. Even though he was supposed to supervise, the wife asked their employees to screen and refuse his calls. Sometimes they quarreled in front of the employees, who occasionally were asked to supervise their children.
My consultation work with them initially focused on getting them to establish boundaries between home and work, by taking sole responsibility of the children and by establishing ground rules for communication during business hours. I assigned them the task of scheduling one hour per week to discuss nothing but the business, when no topic touching on their home life was to be mentioned. The business meeting was to take place after hours, in the place of business.
Their homework for these meetings was to discuss the division of labor and write a list of tasks for each partner, including bank deposits, check writing, personnel, and production. In time, with my assistance, they developed a policy manual with job descriptions and an organizational chart.
The husband became a silent partner, and they hired someone to handle the tasks he had been doing. The topics of the weekly partner meetings evolved into production planning and finances.
After the business was stabilized, we began to focus on the marriage itself. He felt unfulfilled in his job and envious of her leadership position. She acknowledged that she had a drinking problem and began attending AA meetings. He began to work for an marketing company, where he gained the skills to do online marketing for the family business.  He now plans to open his own online marketing firm.
This case vignette has been disguised to protect confidentiality.
Why Robert Menuet?
5 years of management experience
Management training at LSU necessary for consulting in family businesses
33 years of therapy experience
Proven record helping hundreds of couples of all faiths and persuasions to reconnect
Twelve years counseling experience at Catholic Charities of New Orleans
Special training in Couples therapy from the Washington School of Psychiatry
Experience in court-referred divorce cases
Training as a family mediator at Loyola Law School
Secular approach not based on notions of traditional morality
Get the help you need now
Call now for a free 15-minute consultation. I can talk with you alone or with you and your partner over a speakerphone. Leave a message at any time, and I'll get back to you.
---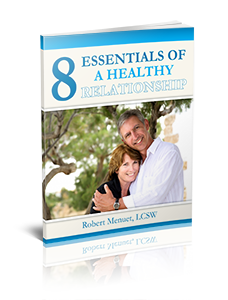 Read The 8 Essentials Of A Healthy Relationship
I'd like to invite you to read this free report in order to learn more about your current relationship. If you have any questions please don't hesitate to contact me by phone.
Download The 8 Essentials Of A Healthy Relationship
To download my free report, simply enter your name and email in the form below and click the "Download Now" button.