RELATIONSHIP THERAPY FOR SINGLES
Have You Been Unlucky in Love?
Do you suspect that you have chosen the wrong partner, again?  Or, do you get tongue-tied when you try to speak to the attractive person one desk over?
Maybe you feel like giving up on relationships altogether. Or perhaps you fear rejection and embarrassment if you reach out.
Do you feel lonely and different from others, and afraid to speak up? Are feelings of alienation getting in the way?
Does an inner voice of melancholy or anxiety insist, "Nobody finds me attractive," or "I better not dare to reach out?"
Maybe your own feelings are making it hard for you to form healthy relationships.
The Answer May Be Right under Your Nose
You may be misinterpreting people or even pushing them away without meaning to.  Some people don't realize that they are sending signals that they are unavailable. Others mistake "brutal honesty" for frankness in conversation.  And it is very common for people to be attracted to exactly those relationships that are doomed from the beginning, because they are re-enacting the failed relationships they witnessed in their childhoods.
Eliminating negative feelings means discovering patterns and scripts. Rather than presupposing that "all men are beasts" or "nobody likes me" or "all women are gold diggers," work backwards. Think of several experiences you feel that reinforce that assumption; think of a "common denominator" in your behavior or interactions; then think back on that behavior's first appearance or its recent trigger.
You may surprise yourself. Perhaps your problem, in its most basic form, is unconscious and unaddressed.
Begin to Have Healthy Relationships Today
You are not alone: negative feelings and life scripts are widespread, and everyone is vulnerable at some point in their lives.  What sets us apart is whether and how we choose to deal with our feelings. An early step on this journey is reducing the problem to its most basic parts in order to discover patterns and solutions.
Also keep in mind that positive events, such a promotion or a new domestic partnership, can cause as much stress as negative ones. There are no limits on what "passes" for a symptom.
Talking about your troubles freely requires a special time and place.  Not addressing them may complicate your problems or produce more symptoms, such as isolating yourself, attaching yourself to someone who will disappoint you, or overeating and then decreasing your social confidence.
Working together with me, you can learn new ways of relating. Opening up to an unbiased professional can help you come to terms with your negative experiences.  Relationship therapy for singles provides a space for you to learn about the patterns and scripts that may have gotten you into trouble in your relationships, and to rediscover your own strengths, via one-on-one dialogue. As an experienced relationship therapist, I offer a willing ear and an open mind for this collaborative process.
BUT there's always a but…
Therapy doesn't really work.
We all have choices.  Some patients go to weekly sessions, stage a therapeutic dialogue without truly opening up, and keep to themselves.  The alternative is to work shoulder to shoulder to examine your emotions and rediscover your strengths.  It's productive only for someone who is ready for it.
… no really, it doesn't work: I have a friend who didn't get results.
Relationship therapy for singles unfolds case-by-case, and the ultimate recipe for success is the amount of work you are willing to put into each session.  My role is not to comfort you or explicitly describe your script patterns for you— I am here to help you heal and ultimately function in relationships.  If we both decide therapy is not right for you at this time, we can put your process on hold. My door is always open.
Therapy will take a long time.
Being in therapy is a little like leaving school: You can stop with a high school diploma, continue on to college, or even take a graduate or post-graduate degree. And you can take a break for months or years before going from one stage to the next.
Treating the cause under the symptoms requires consistent dedication, but the symptoms do improve along the way.  The time frame for healing deep-seated wounds and realizing one's inner potential varies. Nothing is written in stone, and a four-month process for one may be a multi-year journey for another.
The need for therapy means I'm weak.
Actually, it means you have the strength to face the facts.
Nobody is perfect, and it's easy to feel alienated by your issues when nobody around you is talking about their own.  It's also easy to wish you had been born different, or to fantasize reversing every decision you regret.  The desire to move forward and work for stability in your life, on the other hand, is a sign of the strength needed for self-renewal.
How to Succeed With Relationship Therapy
A young man I treated some time ago consulted me after ending a marriage of 3 years.
For some time he had been coming to grips with feeling unloved by his wife. To his dismay, she had begun to drink shortly after they married.  He began to contemplate divorce. Then his wife gave birth prematurely and the baby remained in the hospital for some time.
This added a layer of guilt to his already complex predicament. He did not feel comfortable expressing his marital misgivings to anyone, resulting in extreme alienation.
In due course, he separated and entered therapy. As he spoke about his marriage, he began to look at his family of origin as well. As a boy he faced alienation as the only non-alcoholic member of his family.  Despite his good health as an adult, he recalled growing up with a lack of reliable guidance.
For years after he moved to New Orleans, he struggled to find a way to cope with his upbringing.  The struggle intensified when the man's family started drunk-dialing him from his home town, effectively "anchoring" him to his anxiety's catalyst.
He mentioned that he never cried. To help hasten his work in therapy, I asked him to describe one of the calls he received, and there we overturned a critical rock.  On the phone late at night, his family members would routinely break down into drunken, incoherent sobs.  This repulsed him to the point where he equated distancing himself from his feelings with distancing himself from his unstable upbringing.
After this discovery, the man's healing process gained momentum and he completed therapy.  Many years later, I ran into him in the store with his children.  We spoke for a bit, and he mentioned that he was happy with his second wife.
This case vignette has been disguised to protect confidentiality.
Why Robert Menuet?
I will walk as many miles as necessary in your shoes. A critical component in my work is my own cognitive and emotional empathy. I use my imagination to think about what it must be like to experience what you are going through, and emotionally, I feel your pain with you.
Empathy is a three-step process:  To listen closely and wait for a person's revelations; to watch for subsequent thoughts and actions; and to wonder about their implications and what possible revelations lie ahead, in order to guide the development of the therapy.  Both of us work together for you to make and determine the meaning of your experience.
Beyond the practice of empathy, I work to "teach patients to fish" rather than "fish for them": One question I make sure to ask every client at some stage of their process is, "What do you do for recreation?"  As trivial as it may sound, a block in someone's life may be caused by a lack of independent pursuits that would connect them with likeminded people. Finding your way towards independent interests can be a huge step in the healing process.  I will help you define your own interests and values, ensuring that you heal with the tools you need to more fully engage with others, and make your own way in the world.
I offer these qualifications to individuals from all walks of life.  If necessary, you can stay in touch me after you leave therapy, in the event of your seeking general advice or a follow-up session. My treatment is secular in nature, not based on religious morality.
Get the help you need now
Call now for a free 15-minute consultation.  Leave a message at any time, and I'll get back to you.  The next step will be to schedule individual sessions.  Everything you and I exchange will remain confidential.
---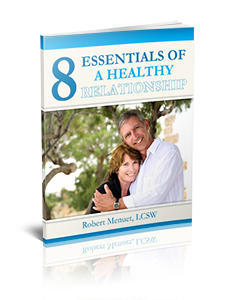 ---
Read The 8 Essentials Of A Healthy Relationship
I'd like to invite you to read this free report in order to learn more about yourself and your relationships. If you have any questions please don't hesitate to contact me by phone at (504) 264-9042.
Download The 8 Essentials Of A Healthy Relationship
To download my free report, simply enter your name and email in the form to the left and click the "Download Now" button.