Financial Fidelity and Money Problems in Marriage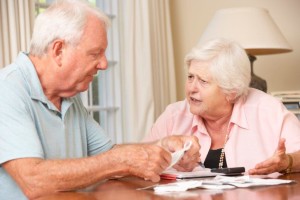 Money problems in marriage easily drive a wedge between partners. Financial fights are frequently listed as a top reason for separation and divorce.
Money is more than dollars and cents. For many couples, it is full of personal meaning. Any deception or lack of transparency, or a trend toward fiscal irresponsibility, can cause resentment and seriously erode trust and relational connection.
Learn how money impacts your marriage so you can take steps to maintain financial fidelity and maintain satisfaction in your relationship.
Your pledge to take care of each other includes taking care of your money.
How you manage your fiscal responsibilities and reputations reflects both on your respect for each other and on your shared future together. Money problems in marriage will inevitably arise if either one of you feels that the hard work it takes to solidify savings and to build your nest egg are not valued and respected.
Sloppy bookkeeping, unchecked spending, and late bill-paying put you on shaky ground both financially and relationally. Tension, not wealth, will grow, and the the security that money signifies will never really materialize. Protect your monetary relationship. Otherwise, you run the risk of feeling less able to make solid plans together or to honor mutual agreements because you're unsure that they will be honored or implemented.
Maintain your trust. Don't indulge in secret spending, concealed credit, or obscured debts.
Trust and money matters are a close couple. Don't break them up with dishonesty.
Combined finances come with the expectation that you will be faithful and honest in money matters as well as in your physical relationship. If your partner feels that you cannot or will not be truthful when it comes to your debts, expenses, or combined resources, he or she will resent it more and more, and may resist being forthcoming as distrust and suspicion grow.
Naturally, everyone needs some discretionary funds, even in marriage. Nobody feels good being micromanaged. But your partner should know the total amount of discretionary money, as well as the existence of a separate banking account, if you use one.
Practice accountability with sufficient ground rules and open communication.
I recall a man who impulsively brought home a Jaguar for his wife as a surprise; she was happy with her station wagon, so the surprise was an unpleasant one, especially since there were financial complications later on. Financial fidelity requires ground rules. Combining your finances successfully necessitates ongoing communication. Your marital money vows should definitely include an accountability agreement. Resolve that your combined funds are not to be spent, shared, or invested elsewhere, unless the matter has been clearly discussed between you. It is important to communicate clearly and routinely to demonstrate a willingness to cooperate.
Fiscal faithfulness suffers when partners feel forced outside their financial abilities.
Money problems in marriage are not necessarily inevitable. If you keep each other's fiscal strengths and abilities in mind, monetary conversations and decision-making can be a much more pleasant experience. Avoid forcing each other into roles that are a poor fit. It will only get in the way of your attempts to trust each other financially.
Instead, if either of you feels uncomfortable or anxious about your fiscal responsibilities, you'll do well to discuss problems immediately and develop mutually acceptable solutions.
Refrain from using money to manipulate, intimidate, or control each other.
Money problems in marriage sometimes stem from attempts to use funds and earning power against each other. Does one partner earn more and expect to have more say in the relationship because of it? If so, your marriage meltdowns may be jeopardized by monetary power struggles instead of loving interactions and solution-focused problem-solving.
Keep in mind that you and your partner are partners in every sense of the word. Neither of you should feel your rights or access to funds is unbalanced. Share with each other what respectful sharing of money looks like to you.
Financial fidelity requires willing responsibility, transparency, communication, and trust.
Avoid money problems in marriage by intentionally working to keep your relationship free of resentment.
If you find you are unable to manage your money and marriage well, seek the guidance of a couples therapist or financial planner to help resolve any persistent money problems.
Robert Menuet, LCSW, is a therapist who practices in the Greater New Orleans, Louisiana, metropolitan area. He specializes in Marriage Counseling, Couples Therapy, Relationship Therapy for Singles, Couples Therapy For One, and he consults and treats couples who work together in family business. He has 34 years of experience and has been trained in couples therapy and mediation at the Washington School of Psychiatry and Loyola University College of Law.
Click here to learn more about Couples Therapy and my practice in Metairie, Louisiana