COUPLES THERAPY FOR ONE
Are you the only one who is worried?
Does it seem like every time you try to resolve important issues with your partner, you wind up having an argument instead of reaching an agreement?
Maybe you've brought up the subject of marriage counseling, only to have it brushed aside or ignored.
Perhaps your partner has refused outright to participate in marriage counseling.
It can feel confusing when your partner acts as if nothing bad had happened yet tries to make unspoken amends by buying you gifts or doing you a special favor.
If you think you might be having arguments over the same issue over and over, you may find yourself losing hope that you can ever resolve the problems in your marriage.
Robert Menuet has helped people whose partners will not participate
You can learn new ways of relating to your partner without their presence in the therapy. You can learn to shape behavior with positive reinforcement, and you can learn other ways to react to your spouse that are more effective. 
Do you feel blocked?
Many people feel helpless or stymied when trying to improve their relationship, especially if they are the only spouse who is willing to actively work on it. The other spouse may not feel ready to begin marriage counseling. Often the more interested partner begins to feel isolated and hopeless after waiting months or years for their spouse to come around.
Your best chance to change your relationship
Couples Counseling for one spouse can help. You can learn new ways of interacting with your spouse. Even without his or her participation, you can learn about yourself and your own behavior. Sometimes, you can improve your relationship by studying and changing your own behavior.
For some individuals, simply changing the things you say and do not say to your spouse can have profound effects on the way they relate to you. For instance, positive reinforcement is a powerful way of shaping behavior. Sometimes people overlook the many opportunities they have to praise and mirror behavior to their spouses, and the importance of refraining from repetition or criticism.
BUT there's always a but. . .
How can I work on our problems, when he is the one who is causing it all?
Although one partner may display most of the symptoms of a troubled marriage, it is almost always the case that both spouses contribute to the problem, even when adultery is the issue. We all have choices.  If you change, the people around you will change.
If I come to marriage counseling alone, will she join me later in the process?
Beginning marriage therapy alone is your best chance of engaging your spouse in the process. Many times, the less interested spouse does end up coming to marital sessions. It's also true that sometimes the other spouse never agrees to come the sessions. But if both partners are committed to the relationship, then marriage therapy for one represents the best option for change. 
My friend went to therapy to work on her marriage, and it didn't work.
Marriage therapy and individual therapy unfold case-by-case, and your success depends on the amount of work you are willing to put into each session.  Rarely, in spite of your best efforts, your spouse behaves the same as always. In such cases, I can teach you to cope with the ongoing behavior in ways that are less frustrating to you.
How to change someone else's behavior just by changing your own
I recall an older woman who was in a relationship with a man who worked in the same company. She consulted me alone, to figure out some way of dealing with her boyfriend, short of ending the relationship entirely. He was unknowingly encouraging dependent, sometimes alcoholic, women to confide in him, and his manner with them was openly flirtatious. Several times she tried to point that these flirtations were hurtful to her, but he brushed off the issue. He accused her of criticizing him and said that it was just in his nature to help people who needed him. I encouraged her to ignore this behavior and focus instead on thanking him after a good weekend. Gradually she gained the control to stop confronting him. She began to demonstrate thoughtfulness with frequent caring behaviors. Gradually his flirtations subsided after he initiated therapy with another therapist and joined Alanon, where he gained insight into his enabling behavior toward dependent or alcoholic women.
Why Robert Menuet?
33 years of therapy experience
Proven record helping hundreds of couples of all faiths and persuasions to reconnect
Twelve years counseling experience at Catholic Charities of New Orleans
Special training in couples therapy from the Washington School of Psychiatry
Experience in court-referred cases after training as a family mediator at Loyola Law School
Business school and management training necessary for mediating in family businesses
Secular approach not based on notions of traditional morality
Get the help you need now
Call now for a free 15-minute consultation. I can talk with you alone or with you and your partner over a speakerphone. Leave a message at any time, and I'll get back to you. When you're ready to begin, bring your partner to therapy if you can.   If you want individual sessions, or if your partner won't come, schedule individual sessions.
---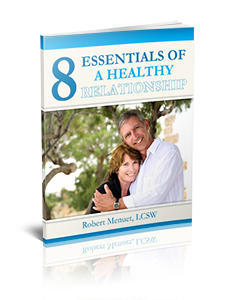 Read The 8 Essentials Of A Healthy Relationship
I'd like to invite you to read this free report in order to learn more about your current relationship. If you have any questions please don't hesitate to contact me by phone at (504) 264-9042.
Download The 8 Essentials Of A Healthy Relationship
To download my free report, simply enter your name and email in the form below and click the "Download Now" button.